Rev. Dr. Rollin Russell served congregations in Virginia, Pennsylvania and Texas before being elected as Conference Minister of the Southern Conference of the UCC in 1982. During his tenure he taught UCC History and Polity at Duke Divinity School. After seventeen years as Conference Minister Dr. Russell served on the faculty at Lancaster Theological Seminary from 1999 - 2003. He now lives in retirement with his wife, Betsy, in Asheville, NC. They have three children and five grand children.
Beth Kennett is a Professional Certified Coach (PCC) with the International Coach Federation (ICF), and has been a member of ICF since 2007. Beth holds ordained ministerial standing in the United Church of Christ, and has experience as pastor, Youth pastor, educator, denomination staff, conflict management facilitator, church consultant, and has worked in the areas of Faith and Vocation and leadership development. Beth coordinates coaching services for the Center for Congregational Health and works ecumenically with congregations, clergy and youth across the country. The Center for Congregational Health is a part of the Division of FaithHealth at the Wake Forest University Baptist Medical Center. Beth has worked with the Center for Congregational Health, as a consultant and coach since 2004. Beth also serves as adjunct faculty at the Divinity School of Wake Forest University.
Rev. Jim Luck holds 2.75 graduate degrees in theology none of which means he is equipped to do ministry in the 21st century. But he has spent almost 30 years helping local churches in 5 denominations adapt to postmodern realities. An adjunct professor at Wake Forest Divinity School, Jim serves as the co-chair of the WNCA Committee on Ministry. He & his wife Paula serve Second (Lexington) & Bethany (Winston) as co-pastors and live in Thomasville where they can frequently be found listening to Bruce Springste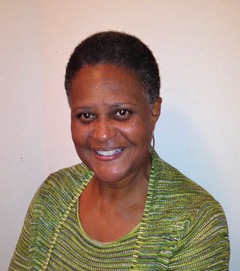 Rev. Betty Morton is a UCC minister and leadership coach serving as a consultant to the Catawba Clergy Network. Betty has spent her professional life in diverse business and ministry settings helping individuals and organizations thrive.
Rev. Dr. Karen Georgia Thompson
The Rev. Dr. Karen Georgia Thompson serves as the Minister for Ecumenical and Interfaith Relations for the United Church of Christ. She is an inspiring preacher and teacher, sharing her skills and gifts in a variety of settings nationally and internationally. She is also a published writer and poet.
As the Ecumenical and Interfaith Officer for the UCC, Rev. Thompson is responsible for nurturing and coordinating the ecumenical work of the UCC through involvement in the UCC's relationships, partnerships, councils of churches, theological dialogues and ecumenical initiatives. She represents the UCC in national and international ecumenical settings and advises the General Minister and President as well as other UCC leadership on ecumenical policy. She is the primary UCC representative to inter religious dialogues and has written extensively on multiple religious belonging. Her ministry is informed by her passion for racial justice and the elimination of racism. She is a strong proponent of human rights and provides leadership for the joint United Church of Canada and United Church of Christ committee working on the United Nations International Decade for People of African Descent (2015-2024).
Prior to accepting the role as Minister for Ecumenical and Interfaith Relations, Rev. Thompson was the Minister for Racial Justice with Justice and Witness Ministries for the UCC with responsibilities for training, workshops and the UCC "Sacred Conversations on Race." Before joining the national staff, Karen Georgia served in the Florida Conference Pastor and on the Conference staff as Minister for Disaster Response and Recovery.
Karen Georgia earned a BA from Brooklyn College in New York, a Masters in Public Administration from North Carolina Central University in Durham, NC, and a Masters of Divinity from Union Theological Seminary in New York. She earned her Doctorate in Ministry at Seattle University.
Rev. Dr. Thompson is currently the nominee of the UCC Board of Directors to serve as the Associate General Minister for Global Engagement and Co-Executive for Global Ministries. Her election will take place at the 32nd General Synod, June 21-25, in Milwaukee, WI.
Her first book of poetry Drums in Our Veinswill be published this summer.
Rev. Sara Wilcox pastors Land of the Sky United Church of Christ, celebrating its tenth birthday this year. She helped co-found this church during which time she served as the Director of New Church Initiatives for the Center for Progressive Renewal. She lives in Asheville with her husband, Jeff, and daughters Anna and Ella. She is blessed beyond measure to serve a community of people seeking to live justly, love abundantly, and walk humbly in the ways of Jesus. God is still doing a new thing in the church and she is grateful to be a part of it every single day.
Brian lives in Raleigh with his wife Denise and two teenagers, Brock and Adria. Brian is the Executive Director of the Campbell Center for Church & Community, as well as for Community Engagement and Leadership. Through the Center, he directs the Rural Clergy Fellowship, a year-long cohort for clergy in rural and underserved areas, and the university's efforts to resource and partner with congregations and communities. Brian also teaches in the Divinity school at Campbell in areas of congregational leadership and Christian education.